Builder
Mellinger & Sons Construction, Inc.
P.O. Box 580
Riverside, IA
(319) 646-2819
chad.masinc@gmail.com
mellingerandsons.com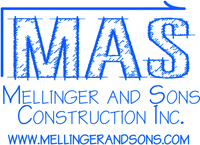 For more than 15 years, Mellinger & Sons Construction has specialized in building custom homes and remodeling existing homes to meet the exact specification of their customers. Mellinger & Sons Construction builds six to eight custom homes per year in and around the Iowa City area, always paying close attention to detail and never sacrificing quality. Their projects run smoothly, within budget, and are closely coordinated with subcontractors.
Subcontractors
• A Tech Beam Team, Inc. • ABC Supply Company • BCI Lumber • Cabinet Works • Corridor Drywall • Custom Millwork & Finishing • Diamond Vogel Paint • Duwa's Quality Walls, Inc. • Hawkeye Ready-Mix, Inc. • Iowa City Ready Mix • James Hardie Building Products • King's Material, Inc. • Larry Yoder Masonry, Inc. • Lite Window & Door Co. • Midwest Poly Solutions Ltd. • MMS Consultants, Inc. • Plumb Supply Company • Precision Electric, Inc. • Rittenmeyer Trucking • River Products Company • Sobaski Abbey Carpet & Floor • Spratt Builders, Inc. • Stevens Erosion Control, Inc. • Stransky Concrete • The Water Shop, Inc.