Navigate Homes — 1269 Kona Circle
Coralville
Look no further than this incredible zero-entry single family home on the west side of Iowa City. This home features everything you could ever think or dream of - big kitchen with an island? Check. Walk-in Pantry? Check. Sun room with a deck and stairs down? Check. Gas fireplace with built-in cabinets? Check. Home Office? Check. Primary private bathroom with two separate vanities plus a makeup vanity and heated floors? Check. Walk-in closet? Check. Laundry on the same floor as 4 upstairs bedrooms? Check. Walk-out basement? Check. Wet bar? Check. You may as well just CHECK it out for yourself. This home also features an auxiliary generator hookup and tankless water heater.
Features
Modern Farmhouse, Wooded view, Sunroom, Large kitchen island, Walk-in pantry, Walkout basement, Heated bathroom floor, Upstairs laundry
Builder
Navigate Homes
733 Mormon Trek Blvd
Iowa City, IA
(319) 466-4300
Hello@NavigateHomesIowa.com
NavigateHomesIowa.com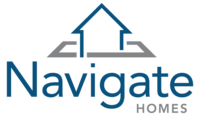 Navigate Homes is known for building communities, one project at a time. They are a trusted, high-quality builder in a wide range of price points. Navigate emphasizes green building techniques and energy efficiency. Navigate will be building in new neighborhoods this year, including Kona Circle in the woods of Eagle Bend, off Camp Cardinal Blvd. in Coralville, Ushers Ridge along the river in Cedar Rapids, and in Cardinal Pointe West part 3.
Subcontractors
• ABC Supply Company • Advance Millwork • Aero Rental • Beisser Lumber Co. • Bud Maas Concrete, Inc. • Bunting Construction • Cabinet Style • Cascade Mfg. Co. • City of Coralville • Duwa's Quality Walls • Hawkeye Ready-Mix • Illuminate Lighting, LLC • King's Material, Inc. • Lite Window & Door • MidAmerican Energy Company • Mulford Plumbing & Heating, Inc. • Preferred Energy Consultants • Randy's Carpets & Interiors Closets Plus Navigate Homes Weldon Drywall